When you bring your modern scooter to the SilverStar Scooters Department, Peter will make sure that your scooter gets the best attention possible. You will be able to talk to the man who is actually working on your scooter, and with your involvement, Peter will work out what needs to be done and return your scooter quickly to the road.
SilverStar Scooters also sells new scooters, parts and tyres, plus provides:
- FULL SERVICE
- MECHANICAL REPAIRS
- PANELS & PAINT REPAIRS
- MODIFICATIONS

If you are new to scootering and just want some advice, swing by and have a chat to Peter; he is an enthusiastic scooter rider himself.
VINTAGE
SILVER STAR, ONE OF THE BEST  SCOOTER RESTORER ON THIS PLANET.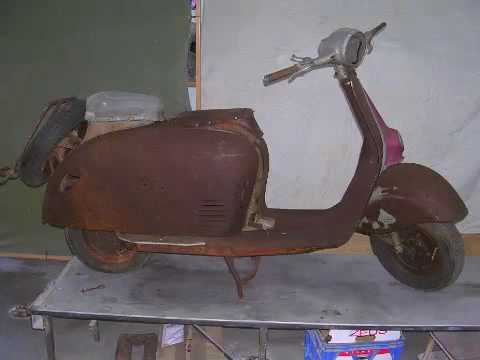 Durkopp Diana Before & After Restoration
Peter from SilverStar Bikes has been painting and repairing motorcycles for over 25 years. More recently (purely as a hobby), he has turned his talents to the restoration of vintage scooters.
It all started with the Puch RLA, which had been in the family for almost 10 years, tucked away in the corner of a garage. Working on it in our spare time, the Puch took us about 2 years to get to the condition you see in the photographs.
The Puch started a pattern that we have continued with the later restorations:
Firstly, the scooter must be unusual. Many of the scooters we have bought are the first examples of their kind that we have seen.
Secondly, they must be in need of restoration. We are not just scooter collectors; we get our kicks from restoring them. Basket cases are best!
Finally, they have to have that little something that catches our eye. Beauty, style unique design; the scooter must have that special something.
Each scooter is meticulously researched to discover what it looked like ex factory. Our restorations aim to bring the scooter as close to its new factory condition as possible. We use original parts whenever we can, but with the rarity of our scoots, remade parts are often needed. Our attention to detail includes even the nuts and bolts. Bolt and screw heads match the factory specs.
Peter can usually find some original paint to match the colour, hidden away under some trim. Parts manuals are essential to provide the level of detail we need. The international scooter community has proven time and time again to be enormously helpful. People love to "talk" about their scoots!
Although the scooters are restored to original condition, they are by no means "show ponies". We restore them to ride, and ride them we do. On a fine Sunday morning, they can be seen making their way to our local coffee haunt and basking in the admiring looks they draw from passers by.
If you have any information or comments, or better yet, know where there is an oddscoot that could use our TLC, get in touch. We'd love to hear from you.